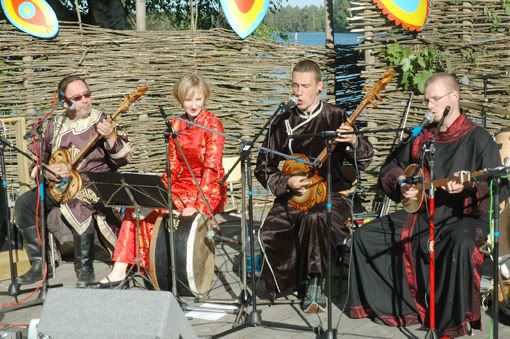 Finland meets Tyva in very close manner. It'd be called a kind of attempt to get into the very essence of the Pan-Mongolian spirit. Guys from
Cedip Tur
was and seems are (i'm not quite sure the band is still active, who knows) the
"Finland's only Tuvan folk music playing group"
and have to say they do it convincingly good. At least if there'd appear choice between last album of Tuvan legends
Huun-Huur-Tu
(their collab
Eternal
recorded with electronic guy
Carmen Rizzo
) and this pro-Tuvan but still Finnish "Traktorist", i myself would choose the last one.
In Cedip Tur's history features the Tuvan trips, tight connections with original artists from Tyva and related festival activity. Republican web-resource
Tuva-Online
in 2006 wrote:
Band of Finnish throat-singers is to perform July, 19 in Kyzyl, at a newly opened "Khoomeizhi" caffee. It's a second concert on the group's record to be given in Kyzyl. The first one took place in 2001. Cedip Tur gets together few times a year and has about 10 gigs every year. Founder of the
Finnish Association of Throat-Singing
(established in 1997 btw)
Sauli Heikkilä
in 2005 took an active part in the discussion following the Gennady Tumat Throat-Singing Contest 2004 in Oviur, when local performers rose a question whether foreigners should experiment freely with the khoomei. Sauli remarked in this regard:
"I haven't ever heard anybody saying that Finns should not sing Irish songs. Vice versa. Local bands can spread the message that this kind of art form exists and real masters live far in the central of Asia. I think this will only bring more work to Tuvan singers and bands. In my mind our band is going toward something that has never heard using all the things we have learned during our trip"
. In the end of this message Sauli added
"We have our tango-singing contest, welcome to take part"
.
On this record Cedip Tur's lineup mentioned as
Eero Turkka
(throat singing, igil, doshpuluur),
Sauli Heikkilä
(throat singing, tsanzy, percussion, jaw harp),
Sami Jansson
(throat singing, doshpuluur, viola da caballo),
Imre Peemot
(throat singing, igil, tsanzy, percussion, accordion),
Roosa Marttiini
(vocals),
Veera Voima
(vocals).
Maybe CD is still available —
try to buy it here
.