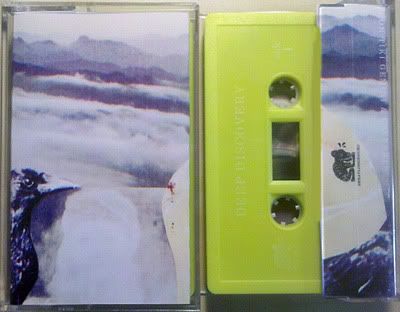 Kon Tiki Gemini
is the
Bedroom Bear
&
Mpala Garoo
's Berlin jams recorded late summer.
Cavernes
is work of
Francesco De Gallo
(
Hobo Cubes
/
Magic Beach
). Maybe it's a bit late to spread a word — this edition seems totally so/oop, but it's never late to listen to music.
"Jamming duo from Russia consisting of Sergei (Bedroom Bear) and Ivan (Mpala Garoo) which started spontaneously during summer trip to Europe. One is south, and the other is north, creating together moody tides of pure celestial reverberations as well as massive oceanic rumblings. Awakening with each subconscious tide a mythic scene from the childhood of earth, when Kon Tiki was wandering through is own gaze giving birth to shining temples of ancient races."
@Sweat Lodge Guru
:
"Pairing the side-projects of luminaries like Mpala Garoo, Magic Beach, Hobo Cubes, and Bedroom Bear, this split from Kon Tiki Gemini and Cavernes begins with a roiling hot mudbath of crackling drones and claustrophobic melodies on the a-side. The kind that cakes to your hide and doesn't slough off until your skin does. Cavernes softens the dried glaze with a gauze of shimmering notes on the flip, then peels your face off with sheer will to expose the beautiful, porcelain bones beneath."
Thanx to Gemini and Frank for sharing this thing — downloadable in 320 kbps either from player above (per track), or from
Mediafire (67 MB zipped)
.
---