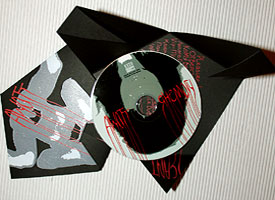 One of most interesting Moscow underground acts with their brand new hour+ epic message. Limits annihilation run amok.
@RAIG:
"AWOTT refined and condensed their vision to produce the band's most precise album to date with ICanT. But don't be mistaken: they still blend elements of kraut, psyche, industrial, and avant-garde with a sound that has you quite goosy. However, everything has come together to make sense, and works in a more consistent, more focused manner. Almost pure instrumental tour-de-force that should make evil fans of both Faust and The Residents happy."
Though ICanT was set for free both at
FMA
and AWOTT's
Bandcamp
,
physical thing is available
. Limited to 100 pcs, professionally duplicated CDr comes inside a hand-made silkscreen pentagon folder (red-grey-white/red-black-bue colors over black cardboard & red-black-blue colors over white cardboard).
More AWOTT sounds —
here
.