click button above for sounds/downloads
@Of/site
:
"Preslav Literary School is the occasional musical project of Adam Thomas. As PLC, he makes live tape collages using sounds drawn from an ever-growing archive of self-generated or discovered outsider noise, found sound and spoken word cassettes. A process of transference, overdubbing and live manipulation reworks these source materials into compelling, ambient broadcasts. PLC has released records on NO-FI, Razzle Dazzle and Elephant & Castles, sharing stages and bills with Aki Onda, Machinefabriek, Gudrun Gut & AGF, Anton Bruhin, Leif Elggren and Sudden Infant."
@Interdisco
:
"Preslav's ambient drones are an offer of peace and tranquility. Veer is disarmingly heartfelt and has an emotional intensity which leaves you with goose bumps and a deep feeling of sobriety. We're not talking about waves breaking on the shore, whales mating in the deep ocean, or the like. – No, droning out of Preslav's tape archive are lost & found violins, ghostly voices, stretched out guitar riffs and industrial soundscapes.
Veer uses live recordings of a Preslav Literary School concert at Open Broadcast's Radio Village, Basel, Switzerland on Friday June 18th 2010."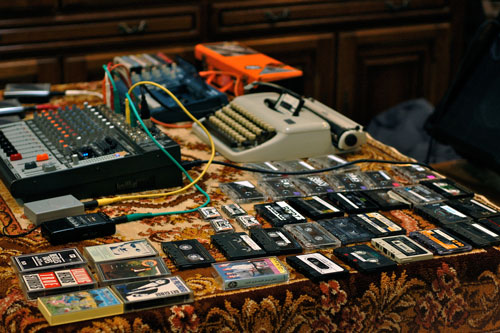 Download "Veer" either from the player or from
Interdisco's release page
.
---